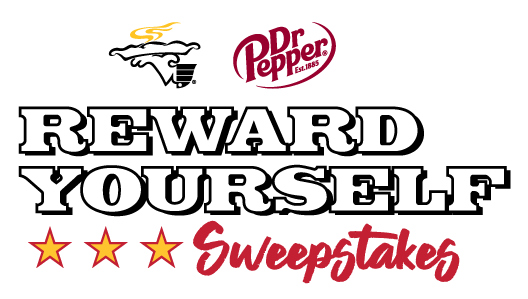 2019 Godfather's Pizza/Dr Pepper REWARD YOURSELF Sweepstakes
NO PURCHASE NECESSARY. VOID OUTSIDE ELIGIBLE STATES AND WHERE PROHIBITED. PURCHASE DOES NOT IMPROVE CHANCE OF WINNING. GOVERNED BY LAWS OF THE STATE OF TEXAS. ALL FEDERAL, STATE AND LOCAL LAWS AND REGULATIONS APPLY.
ALL DISPUTES WILL BE RESOLVED SOLELY BY BINDING ARBITRATION AND ENTRANTS WAIVE THE ABILITY TO BRING CLAIMS IN A CLASS ACTION FORMAT.
Promotion: 2019 Godfather's Pizza/Dr Pepper REWARD YOURSELF Sweepstakes (the "Promotion")
Sponsor: Dr Pepper/Seven Up, Inc. 5301 Legacy Drive, Plano, TX 75024 and Godfather's Pizza, Inc. 2808 N. 108th Street, Omaha, NE 68164
Administrator: Godfather's Pizza, Inc. 2808 N. 108th Street, Omaha, NE 68164
Eligible States: 50 United States and District of Columbia, excluding Florida, New York and Rhode Island
Minimum Age: Must be at least 18 or older at time of participation
DATES:
Start Date: 12:01am Pacific Time ("PT") Monday, October 28, 2019
End Date: 11:59pm PT, Sunday, December 1, 2019
Mailed Entry Receipt Deadline: 11:59pm PT Friday, December 6, 2019
Promotion Period: Monday, October 28, 2019 – Sunday, December 1, 2019
Drawing Date: Wednesday, December 11, 2019
Winners List Request Deadline: Friday, December 13, 2019
ADDRESSES:
Free Entry Address: Godfather's Pizza/Dr Pepper REWARD YOURSELF Sweepstakes, 2808 N. 108th Street, Omaha, NE 68164
Winners List Address: Godfather's Pizza/Dr Pepper REWARD YOURSELF Sweepstakes Winners List, 2808 N. 108th Street, Omaha, NE 68164
PRIZES:
3 Grand Prizes: One of three 65" LED 4K UHD TVs. ARV $699 each. Odds 1: all eligible entries.
FURTHER PRIZE DESCRIPTIONS/TERMS:
GRAND PRIZE: One of three 65" LED 4K UHD TVs.
HOW TO ENTER: During the Promotion Period, to enter join the Godfather's Pizza REWARDS program and be automatically entered to win. Or print your name and residential address, phone, date of birth and email on 3x5 card. Mail in an envelope with proper postage to the Godfather's Pizza/Dr Pepper REWARD Yourself Sweepstakes Entry, 2808 N. 108th Street, Omaha, NE 68164. Must be received by Friday, December 6, 2019. One entry per household for the entire Promotion Period. Current members of the Godfather's Pizza REWARDS program also will be automatically entered to win.
DRAWING: Winners will be selected by random drawing. Odds depend on the number of eligible entries.
PRIZE LIMIT: Limit one prize (valued $600 or more) per person/household per 12 consecutive months from any promotion sponsored by Sponsor or any of its affiliates.
NOTIFICATION: Winners will be notified by phone or email. After a reasonable number of attempts during a day (determined by Sponsor or Administrator), if contact is not made with winner or you do not claim the prize within period specified, the prize may be forfeited.
AFFIDAVIT/RELEASE: Winner may be required to sign an affidavit of eligibility and release of publicity/liability within the time Sponsor or Administrator specifies or prize may be forfeited.
ELIGIBILITY: To enter you must be a U.S. legal resident of an Eligible State and at least the Minimum Age. You are not eligible if you or a member of your immediate family or household (whether or not related) is an (A) employee, officer or director of any Promotion Party, or (B) owner/operator or person responsible for purchasing or promotion decisions at retailers of Sponsor products.
"Immediate family" means spouses, parents, children, siblings and step-parents/children/siblings, whether or not living at the same residence.
"Promotion Part(ies)" means Sponsor, its bottlers or distributors, Administrator, their respective parents, subsidiaries and affiliates, their promotion partners, advertising or promotion agencies, promotion materials suppliers, website developers, judging organizations, auditing or legal firms and other parties engaged in the promotion, administration or execution of the Promotion, and all of their employees, officers, directors and agents.
GENERAL: By participating, you agree to abide by the Rules and all decisions of Sponsor and its judges and administrators, which are final and binding in all respects. Non-compliance may result in disqualification. You are not a winner unless and until you have fully complied with the Rules and all award processes have been completed (including affidavits and any verifications required by Sponsor). All entries must use your actual name and residential address (as on your driver's license or government ID)(no P.O. boxes). Documents must be signed by parent/legal guardian of a minor. Entries become Sponsor's property and will not be returned. Winners may not substitute, transfer or redeem for cash all or any part of prize. If, for any reason, a prize cannot be awarded or winner is not capable of redeeming, Sponsor is not obligated to award it and reserves the right, in its sole discretion, whether or not to substitute the prize (or portion of prize) with a prize of comparable or greater value or cash value or select an alternate winner for forfeited prizes. If, for any reason, more prizes are available or claimed than the stated number, Sponsor reserves the right to randomly draw winners from eligible claimants. Winners are solely responsible for all taxes, if any, on prizes and may be required to provide a W9 form to Sponsor or Administrator for any prizes valued at $600 or more. Winners are responsible for any expense or item not specifically awarded in the Rules.
USE OF NAME/LIKENESS: By accepting a prize, you grant Sponsor (and its designees) the right to use your name and/or likeness for advertising purposes in any medium, without further compensation, except as prohibited by law.
ACCOUNT HOLDER: If disputed, entry will be deemed made by the natural person who is assigned to the account by the applicable provider or organization that assigns the phone, email or other account number.
LIMITATIONS: Neither Sponsor nor any other Promotion Party is responsible for any:
lost, late, damaged, incomplete, illegible, misdirected, undeliverable or postage due mail;
email, network, electronic, software, equipment, service, processing, accessibility or other errors, failures or issues;
unauthorized access, tampering, hacking, theft or destruction; or
other technical or human error related to the promotion, execution or administration of the Promotion.
VIOLATIONS: Sponsor may, in its sole determination, disqualify anyone it believes has not complied with the Rules, may be tampering or acting in a non-sportsmanlike, disruptive, abusive, harassing or threatening manner.
CAUTION: ATTEMPTS TO UNDERMINE THE LEGITIMATE OPERATION OF THE PROMOTION MAY VIOLATE CIVIL AND CRIMINAL LAWS AND SPONSOR MAY SEEK REMEDIES TO THE FULLEST EXTENT UNDER LAW.
CHANGES: Sponsor may, in its sole determination, cancel or modify any aspect of the Promotion or Rules for any reason which Sponsor, in its sole opinion, deems affects the promotion, execution or administration of the Promotion (whether tampering, technical or human error, application of new or existing laws/regulations, or other issues).
LIABILITY RELEASE: BY PARTICIPATING, YOU RELEASE AND AGREE THAT NEITHER SPONSOR NOR ANY PROMOTION PARTY WILL BE RESPONSIBLE OR LIABLE FOR ANY CLAIMS, ACTIONS, DAMAGES, LOSSES, COSTS, EXPENSES AND LIABILITY OF ANY KIND (INCLUDING PROPERTY DAMAGE, PERSONAL INJURIES AND/OR DEATH, DIRECT, INDIRECT, INCIDENTAL, CONSEQUENTIAL OR PUNITIVE DAMAGES, COUNSEL FEES AND COURT COSTS) ARISING FROM ANYTHING RELATING TO:
PROMOTION, EXECUTION OR ADMINISTRATION OF THE PROMOTION (OR YOUR PARTICIPATION);
CANCELLATION OR MODIFICATION OF ANY ASPECT OF THE PROMOTION;
USE OF ANY WEB SITE RELATED TO THE PROMOTION OR MATERIALS ON THEM;
ACCEPTANCE, POSSESSION, USE, MISUSE, OR NONUSE OF ANY PRIZE; OR
PARTICIPATING IN OR TRAVELING TO ANY PROMOTION-RELATED ACTIVITY.
INDEMNITY: By participating, you further agree to indemnify and hold harmless the Promotion Parties and their respective agents, representatives, officers, directors, shareholders and employees from and against any injuries, losses, damages, claims, actions and liability of any kind resulting from or in connection with the Promotion or the Prizes.
NO WARRANTY: ALL PRIZES ARE PROVIDED "AS IS" WITHOUT WARRANTY OF ANY KIND, EITHER EXPRESS OR IMPLIED, INCLUDING BUT NOT LIMITED TO, WARRANTIES OF MERCHANTABILITY, FITNESS FOR A PARTICULAR PURPOSE OR NON-INFRINGEMENT.
SOME JURISDICTIONS MAY NOT ALLOW EXCLUSIONS OF IMPLIED WARRANTIES OR INCIDENTAL OR CONSEQUENTIAL DAMAGES. CHECK YOUR LOCAL LAWS.
DISPUTES: IF NOT RESOLVED THROUGH DIRECT DISCUSSIONS, ANY DISPUTE OR CLAIM SHALL BE RESOLVED BY FINAL BINDING ARBITRATION WITH AN EXPERIENCED ARBITRATOR LICENSED TO PRACTICE LAW IN TEXAS. VENUE FOR ANY PROCEEDINGS WILL BE IN COLLIN COUNTY, TEXAS. REMEDIES SHALL BE SUBJECT TO ALL LIMITATIONS AND RELEASES IN THESE RULES, BE LIMITED TO ACTUAL OUT OF POCKET DAMAGES, AND SHALL NOT, IN ANY EVENT, INCLUDE ANY PUNITIVE, EXEMPLARY, CONSEQUENTIAL OR INCIDENTAL DAMAGES, ATTORNEY'S FEES OR OTHER COSTS OR BRINGING A CLAIM, OR ANY INJUNCTIVE OR OTHER EQUITABLE RELIEF.
BY ENTERING THE PROMOTION, ENTRANT AGREES THAT TO THE EXTENT PERMITTED BY APPLICABLE LAW: (A) ANY AND ALL DISPUTES, CLAIMS AND CAUSES OF ACTION ARISING OUT OF OR CONNECTED WITH THE PROMOTION, OR ANY PRIZE AWARDED, WILL BE RESOLVED INDIVIDUALLY, WITHOUT RESORT TO ANY FORM OF CLASS ACTION; AND (B) ENTRANTS' REMEDIES ARE LIMITED TO A CLAIM FOR MONEY DAMAGES (IF ANY) AND ENTRANT IRREVOCABLY WAIVES ANY RIGHT TO SEEK INJUNCTIVE OR EQUITABLE RELIEF.
USE OF DATA: All information submitted by you will be treated according to Sponsor's Privacy Policy. By participating in the Promotion and providing any applicable contact information, you hereby agree to Sponsor's collection and usage of your personal information and acknowledge that you have read and accepted Sponsor's Privacy Policy available at:
http://www.drpepper.com/__/legal/us/privacy/
https://shop.godfathers.com/privacy/
ADMINISTRATION: Administrator is responsible for the processing of entries and administration of the Promotion. Contact Administrator at its above address with any questions, comments or problems.
For a WINNERS LIST: Mail a self-addressed stamped envelope to Winners List Address above by the Winners List Request Deadline. List will be sent once all prizes awarded.
THIS PROMOTION IS NOT SPONSORED OR ADMINISTERED BY FACEBOOK, INSTAGRAM OR TWITTER. THESE SOCIAL MEDIA SITES MAY BE USED TO ADVERTISE THE PROMOTION ONLY.